---
---
Plymouth Harbor 700 John Ringling Blvd, Sarasota
 September 21, 2019  (Drama – 95 minutes)
Synopsis et Détails
The Story of Adele - Halifax, 1863. A young woman, Miss Lewly, comes to Halifax to search for Lt Pinson, with whom she is madly in love. Actually, she is Adèle Hugo, the second daughter of the great French literary figure and statesman, Victor Hugo. The Lt Pinson does not answer to her love and makes her understand it is hopeless. But as her obsession grows she keeps chasing and harassing him. This film about passionate yet obsessive love and self-destruction is based upon the real diary of Adèle Hugo amd the rest of her days writing in her diary in Paris.  Saturday, September 21st at 7 PM   

10/19/2019:  Le Grand Bleu  (2010 – Drama/Comedy -

2h 48 min) 
Director Luc Besson is famous for his imaginative visual technique and breathtaking action sequences. One of the most stunningly beautiful films ever made, "The Big Blue" features gorgeous underwater photography and spectacular location shooting in the French Antibes, the Greek islands, Peru, and Taormina in Sicily. But it is the emotional intensity of the film experience and mystical themes of the story that have made it a cult phenomenon.  The rivalry between Enzo and Jacques, two childhood friends and now world-renowned free divers, becomes a beautiful and perilous journey into oneself and the unknown.
11/16/2019:  Les Intouchables (2013 – Comedy/Drama  1h52)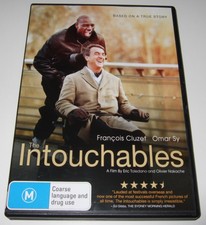 Dear Members of the Alliance Française de Sarasota come enjoy the projection of the award-winning film "The Intouchables". The true story of two men who should never have met – a quadriplegic aristocrat who was injured in a paragliding accident and a young man from the projects.
After a paragliding accident, Philippe, a rich aristocrat, is confined to his home. He employs Driss as home help. Driss is a young guy from the projects recently out of prison. In short, the person the least adapted for the job. Vivaldi and Earth, Wind and Fire, fine language and slang, suits and jogging outfits come together and a clash is inevitable. Two worlds collide and win each other over to give birth to a friendship as crazy, funny, and fierce as it is unexpected. A unique relationship that will make sparks fly and render Philippe and Driss untouchable.